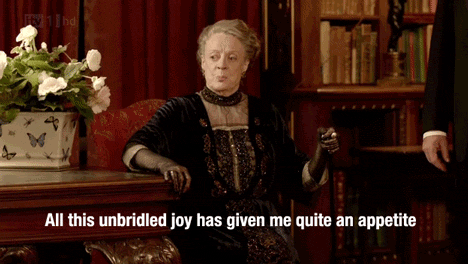 Rating: 6 out of 10 Molesley Moments
Last night, UnpauseIt (in the form of myself, LadyDisdayn) went to the screening of Downton Abbey. Having seen the entire show (albeit a few years ago), I was excited to reenter the world of our favorite upper- and lower-class old English characters. Oh, the intrigue! Oh, the drama! Oh, the witty repartee!
Well, at least we got that last bit.
Upon leaving the theater, I recalled my reaction to seeing Disney's animated interpretation of The Hunchback of Notre Dame. Being a fan of Victor Hugo, I read the book, and had truly wondered how exactly Disney planned to bring such a tragic story to their sugary-sweet screen of dreams and wishes upon stars. No surprise that they took a huge departure from the original work so their version of the story wouldn't lead to variations of angst and nightmares.
While the movie Downton Abbey doesn't quite each that level of total departure, the essence of what made many of us love the show – the conflicts, the rocky relationships, the intrigue – seems to have been left behind in favor of what is essentially a Downton love fest.
Now, not to fret: a true fan of Downton Abbey will still enjoy the movie. The Dowager Countess brings her usual A-game of meme-worthy quips and barbs, helped by her best friend and foil, Isobel. Pomp and circumstance abound as the Crawleys and their faithful staff move mountains to maintain the glory of their societal status. And there is ample hilarity around how they all are so very human in spite of their best efforts to put forth their best faces.
But if you're going to see Thomas or Mary be that perfect blend of cruel and kind, or squirm at the injustice of social classism, you may want to just rewatch the series. The main takeaway from the entire movie is a feel-good frolic through the halls and grounds of the estate. I did cry once, but that was mostly tied to real life vs. what I was seeing on the screen (you'll get it once you see it).
What did you think of the movie Downton Abbey? Tell us in the comments, or share this review with your very favorite Maggie Smith GIF.